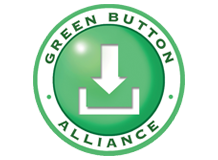 The Green Button is an initiative that provides all consumers with easy access to their energy- and water-related usage information.
The program began in the United States in 2011, as means to promote access to energy usage data by utility customers within a standardized format. It has since been adopted throughout North America. Leading the way in Canada, the Ontario Ministry of Energy is proposing that all of the province's utilities provide usage data by July 1, 2020.
An article by Borden Ladner Gervais lists the following Green Button benefits:
Increase conservation and efficiency by promoting behavioural changes;
Increase energy reporting and benchmarking by requiring large building owners and the broader public sector to report annually on the energy consumption of their buildings. As the energy data would be in a common format, third-party applications could support the aggregation of data for multiple energy accounts, facilitating building-level reporting for multi-metered properties;
Increase process efficiencies for consumers and third-party service providers to access energy data from electricity and natural gas utilities;
Reduce utility customer care effort and increase conservation program efficiencies and innovations for electricity and natural gas utilities (g.easier access to data to conduct audits and evaluate programs; innovations to existing programs based on increased consumer access to data); and
Create economic development opportunities by fostering the development of innovative and interactive energy management software tools and apps that make consumption data available to customers in more engaging ways (e.g. gamification of energy data to drive greater customer awareness).
For a more in-depth article on these proposed regulations, go here.